The American University of Kuwait (AUK) is an independent, private, equal-opportunity, coeducational liberal arts institution of higher education. The educational, cultural, and administrative methods and standards of AUK are based on the American model of higher learning. Our distinguished faculty have experience from many prestigious universities, bringing years of research and teaching excellence to AUK. All instruction is conducted in English. The below sections provide General AUK Information on Enrollment and Programs & Faculty.

Requests for additional or specific information not reflected on these pages must be requested through the Office of Institutional Research or the Office of the President.
General Enrollment Information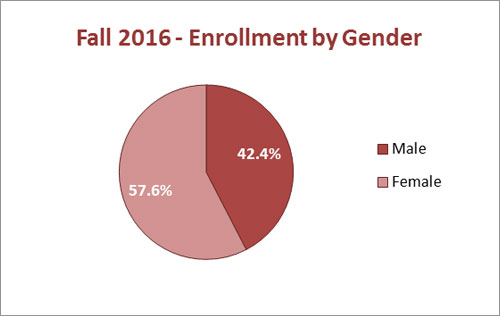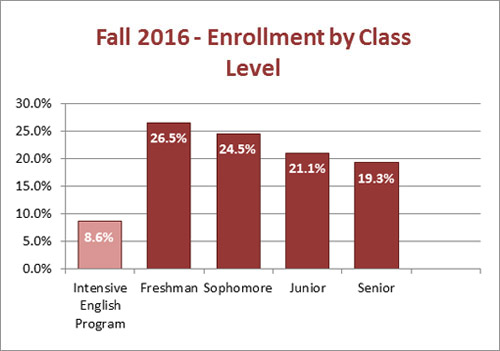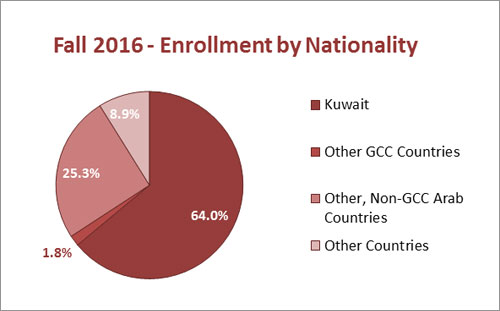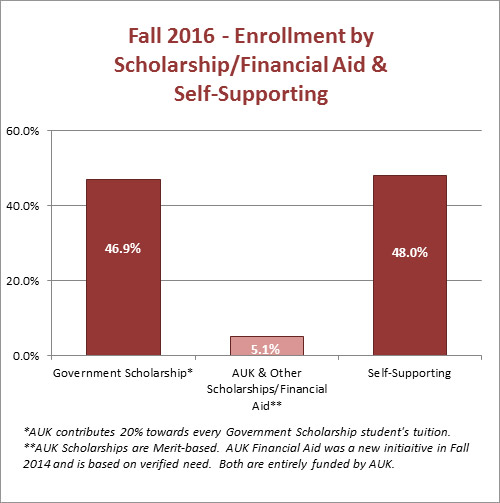 General Program & Faculty Information
The University offers the following programs as of Fall 2016. For further details on academic degree programs please click on the associated link below.
ACADEMIC PROGRAMS
Bachelor of Arts (B.A.)
Bachelor of Engineering (B.E.)
Bachelor of Science (B.S.)
Bachelor of Business Administration (B.B.A.)
Average Class Size & Faculty to Student Ratio
Fall 2016
UG
IEP
Average Class Size
24.7
16.3
Faculty to Student Ratio
1:20.1
1:12.5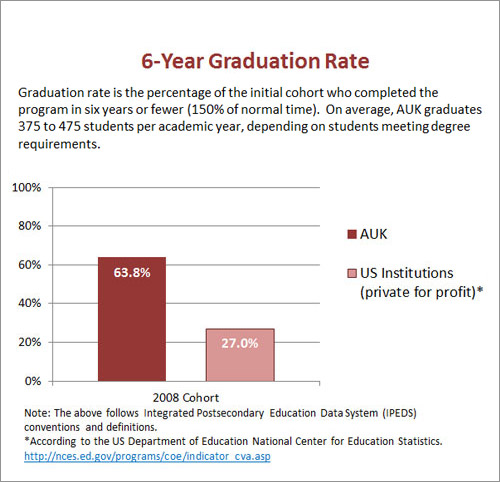 Undergraduate Full-time Faculty Information
Highest Degree Institution Location & Degree
PhD/Terminal
Master's (MS/MA, etc)
Total
Faculty with their highest degree from a North American University
62.2%
13.3%
75.5%
US =51.0%
Canada =11.2%
US =11.2%
Canada =2.1%
US =62.2%
Canada =13.3%
Faculty with their highest degree from a European or Australian University
14.3%
3.1%
17.4%
Europe =11.2%
Aust. 3.1%
Europe =3.1%
Aust. =0.0% (0)
Europe =14.3%
Aust. =3.1%
Faculty with their highest degree from University's elsewhere
4.1%
3.0%
7.1%
TOTAL
80.6%
19.4%
100%
Nationality* & Degree
PhD/Terminal
Master's
(MS/MA, etc)
Total
Faculty with North American Nationality
44.9%
6.1%
51.0%
US =36.7%
Canada =8.2%
US =4.1%
Canada =2.0%
US =40.8%
Canada =10.2%
Faculty with Kuwaiti Nationality
9.2%
6.1%
15.3%
Faculty with European or Australian Nationality
6.1%
2.1%
8.2%
Faculty with Other Nationalities
20.4%
5.1%
25.5%
TOTAL
80.6%
19.4%
100%
*20 nationalities are represented amongst the AUK faculty
Note: The above only includes primary instructors, and does not include Teaching Assistants.