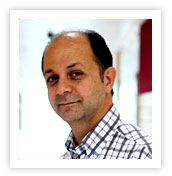 It is a great pleasure to welcome you to the College of Arts and Sciences (CAS) at the American University of Kuwait (AUK). The CAS offers 3 types of Bachelor degrees: Bachelor of Arts (BA), Bachelor of Engineering (BE), and Bachelor of Science (BS), and provides the students with an opportunity to major or minor in more than 10 areas of study. Our goal is to create an environment where students can thrive and gain a comprehensive education which spans the sciences, humanities, arts and social sciences, and also refines their paths towards academic excellence and personal achievement. Teaching, learning, and exploring are supported by outstanding faculty members and dedicated support staff.
As the liberal arts heart of AUK, the CAS has a rich history of providing the general education requirements for every undergraduate student at AUK. The general education educates the students on the principles of critical thinking, understanding data, and effective communication; and also provides them with the skills, knowledge, breadth and depth of understanding they need to navigate in life. By completing course work in a major field of interest, students are equipped with transferable skills that benefit them wherever their professional and personal ambitions lead. Students are also prepared to become engaged citizens and leaders in an ever-changing global economy beyond the walkways of AUK's campus.
On behalf of the College of Arts and Sciences, I thank you for your interest in studying at AUK and wish you success in your higher education pursuits. To gain additional insight into the college, campus life and specific programs, please explore the rest of AUK website.
Dr. Ali Charara,
Dean, College of Arts & Sciences

Personnel of the Office of the Dean
| | |
| --- | --- |
| Dr. Bashar Zogheib | Associate Dean for Administration |
| Dr. Katherine Hennessey | Assistant Dean for Curriculum |
| Ms. Magdalene El Neaman | Executive Assistant to the Dean |
| Ms. Sameera Al Qenna | Senior Assistant for Academic Affairs |
| Ms. Dalia Hassaan | Senior Faculty Support Coordinator |