About the Student Exchange:
The AUK-Dartmouth Internship Program was developed as part of the AUK-Dartmouth Memorandum of Understanding (MOU), which was signed between Dartmouth and AUK in September 2003. Under the terms of that MOU, Dartmouth and AUK work together on a number of programs, including student exchanges, and collaborate across a broad spectrum of academic and administrative spheres. The student exchanges give Dartmouth students the opportunity to work and study at AUK, and provide AUK students with the opportunity to spend part of the summer term at Dartmouth. One hallmark of the AUK-Dartmouth experience for both AUK and Dartmouth interns is keeping in touch with new friends and colleagues. While this experience is designed to assist with personal growth, it is also meant to build personal bridges between the AUK and Dartmouth communities and to encourage interest in the Middle East and in US Culture.
The program was established in 2005 when the first students from Dartmouth came to Kuwait in spring 2005 during AUK's inaugural year of classes. AUK began sending students to Dartmouth College (Hanover, NH, USA) in summer 2006. Through the end of 2016, the program has had sixty-five students participate between both institutions, and the program continues to send students annually. To recognize the program's success, and the success of our participants, the below booklet celebrates a decade of success and includes updates on the majority of past program participants from both institutions.
The AUK-Dartmouth Student Internship Program: A Decade of Success & Beyond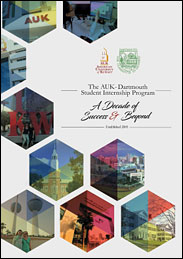 Click on the image to open the PDF
For more information on the program, and details on former Dartmouth students at AUK see the link to the AUK-Dartmouth site:
http://www.dartmouth.edu/~aukproject
DARTMOUTH COLLEGE:
Dartmouth College, founded in 1769, is a member of the Ivy League, a group of eight of the most distinguished universities in the United States. Dartmouth is located in Hanover, New Hampshire, a town of 11,000 residents. It is situated on the Connecticut River, which is the border between New Hampshire and Vermont. The school offers a liberal arts undergraduate education and professional schools of medicine, business administration, and engineering. Dartmouth also offers 17 Ph.D. programs in the arts and sciences. Internationally renowned for its focus on undergraduate liberal arts education, Dartmouth's educational experience is marked by close interaction between faculty and students. Read More
Approximately 4,800 undergraduate and 1,200 graduate students attend Dartmouth throughout the year. In addition to an unparalleled educational experience, students at Dartmouth enjoy a rich natural environment. The school is close to the White Mountains of New Hampshire and the Green Mountains of Vermont. Boston (Massachusetts), New York City, and Montreal (Canada) are within driving distance.
On June 10, 2013, Philip J. Hanlon took office as the 18th president of Dartmouth College. A 1977 graduate of Dartmouth, he is the 10th alumnus to serve as the school's president. President Hanlon came to Dartmouth from the University of Michigan, where he had been a faculty member since 1986. He served in a succession of administrative leadership roles at the university, most recently as provost and executive vice president for academic affairs. He is a professor of mathematics and will teach an undergraduate math course at Dartmouth.
Link to Dartmouth site: http://www.dartmouth.edu/

STUDENT EXCHANGE/INTERNSHIPS:
The Dartmouth-American University of Kuwait (AUK) Program offers a limited number of internships for students on both campuses. All internships are experiential internships ONLY, and bear no academic credit. The Dartmouth-to-AUK internships are administered through the AUK-Dartmouth Program Office, the AUK-to-Dartmouth internships are administered through AUK's Office of the President.
Dartmouth students use a Leave Term to go to Kuwait. They usually work in several administrative units during their time at AUK, depending on their interests and AUK's needs. They may also choose to seek out AUK faculty members whom they can assist in research and/or teaching if it fits in with everyone's schedule. Interested students apply in January for a 10-week internship in either fall or spring term. For further details on Dartmouth students at AUK please visit http://www.dartmouth.edu/~aukproject Read More
The AUK-to-Dartmouth exchange is a great opportunity for AUK students to gain a unique professional and educational experience prior to graduation. AUK students are afforded the below benefits:
Participate in various culturally enriching activities including: outdoor activities and social meetings with Dartmouth students.

Acquire important skills & experiences.

Explore other Dartmouth programs/activities of personal interest to the intern.

AUK students may also audit Dartmouth classes with the permission of the professor and the AUK-Dartmouth Project Office.
AUK students apply typically in December/January for the month-long internship at Dartmouth the following summer. Tadd Kruse, the Assistant to the President for Institutional Planning and Effectiveness, is the contact person for AUK students interested in the Dartmouth programs. For details on eligibility and selection please click here.
Programs and opportunities for AUK students at Dartmouth College vary from year to year. For examples of specific student experiences and frequency of programs see the Previous Interns. AUK students, in the past, have participated in some of the following departments or programs:
Rassias Center for Language Programs,
Read More
The Accelerated Language Programs (ALPs) using the Rassias Method®, is a combination of dramatic techniques, rhythmic drills, and energetic reinforcement strategies that make learning an engaging experience, while eliminating inhibitions to learn another language.
Office of Communications (Formerly Office of Public Affairs)
Read More
The Office of Communications engages a number of key roles including the managing the image of an institution of higher learning. Opportunities to learn about the various ways that information is conveyed to include digital, print, and event-based communications are provided and interested students should have an interest in art, graphic design or studio art, or video production.
Tuck School of Business (TuckGO Office)
Read More
The TuckGO office is responsible for managing Tuck's three major, credit-bearing experiential learning programs. Interns will complete tasks in preparation for the Fall 2016 OnSite Global Consulting project planned with the American University of Kuwait, including conducting and presenting background research to assist the Tuck consulting team in understanding the business school landscape in Kuwait and the Gulf/Middle East more broadly. They will also assist in preparing course materials in preparation for academic year 2016-17 at Tuck. Interns should have an interest in global business education and higher education administration more broadly. Experience with Microsoft Excel, Powerpoint, online Learning Management systems (such as Canvas) is desirable. Interest and availability to participate with the consulting team at AUK in December 2016 is also a plus.
Dartmouth's Nelson A. Rockefeller Center for Public Policy.
Read More
The Rockefeller Center at Dartmouth College was founded in 1983 to commemorate the contributions of Nelson A. Rockefeller '30 to the life of the nation. The Rockefeller Center seeks to educate, train, and inspire the next generation of public policy leaders in all fields of endeavor through multidisciplinary education, public lectures by visiting scholars and dignitaries, skills training, and public policy-oriented research across the social sciences. The Center seeks to connect experiences in and out of the classroom, on and off campus to reach this goal.
Hood Museum of Art
Read More
Currently on hiatus due to renevation projects, possibly next available summer 2017 or 2018.

The Hood Museum of Art houses about 65,000 objects and is among the oldest and largest collections of any college or university in the country. The Hood is a teaching museum that cultivates direct engagement with works of art within an interdisciplinary setting for visitors of all ages. The Hood makes all of its collections available for use by Dartmouth students and faculty in a special classroom setting and offers over ten special exhibitions and more than one hundred lectures and related programs each year.
Secure Information Systems Mentoring and Training (SISMAT) -- 2 week training program:
Read More
Business, government, and non-profit institutions have expressed difficulty finding personnel with appropriate training in cyber security tools. This initiative aims to provide mentoring and training that brings the extensive expertise of researchers and teachers at Dartmouth College in the areas of PKI and trusted systems together with students and faculty from other primarily undergraduate liberal arts colleges, as well as interested corporate and non-profit partners. The primary goals of the
Institute for Security, Technology, and Society
are Research, Education, and Outreach.
Internships/Training Placements for Summer 2018
Office of Communications
Tuck School of Business (TuckGO Office)
For details please click here.