AUK Account


AUK Active Directory login: Active Directory (AD) is the Microsoft windows-based application that works as a directory service for managing network resources.It keeps information and settings for an organization in a central, easy-to-access database. It authenticates and authorizes all users (Staff, Faculty and Students) and computers in AUK network; in addition to assigning security policies for all computers and installing or updating software.

How to get an Account: Faculty account will be created once you join AUK. Your AUK account username is of the form of (EF0000 _ _ _ for Faculty). Employees should activate their account at first Windows login using the default password. AUK account gives you access to web-based, computing and network services at AUK (e.g. Portal- Windows Login - Email- AUK Wi-Fi).
Note: Self-service requires a different password to be created but the login ID remains the same (EF0000 _ _ _). Your password is the key to access your account. You must always keep it secret.

Central Authentication: All AUK users (students, faculty and staff) can use active directory account (AUK user name and password) to access all network resources on campus.

Windows Updates: All the AUK PC units are run by Windows7 and Windows XP. The latest critical and security updates will be received from the Microsoft including office patches.

Anti-Virus: Viruses, Malware, Trojans appear daily in the technology world. They can spread quickly across networks such as the Internet, causing huge destruction in the system. It is very important that you clean your computer from these infections, as failure to do so can result in the compromise of your banking details, credit/debit card information and the loss of your data (Pictures, Music, essays, etc.). For these reasons, AUK has implemented "E-Set" on all computers on campus and update it on daily basis with the latest scan engines and virus data files

Shared Drives: When any Faculty/Staff member login to any PC on campus, they will see main shared drives showing as:
1- "L": Departmental Drive to share documents between the faculty of particular division.
2- "X": General Drive to share documents between all Divisions.
3- "U": Personal storage with 2 GB capacity.
4- "S": Used by professors to distribute documents to all students.

- Additional drive letters might be seen in My Computer based on the departments' requirements.

- High Availability
Most of the AUK systems and services are redundant at the server level which eliminates shutting down of services for minor maintenance and upgrades of software.

Active Directory Login


Active Directory is the network logon domain available to all AUK University computers.


- Press Ctrl + Alt + Delete

- Fill the login screen

- Default Password (Auk12345)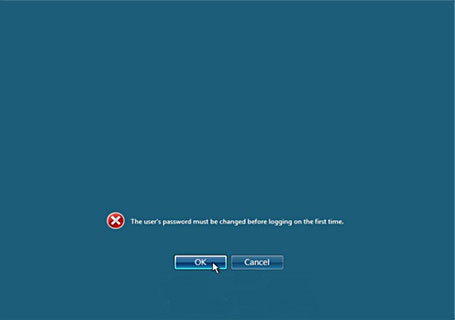 Type out your old password, new password and retype new password again (Confirmed password)


All NEW passwords must conform to the guidelines outlined below:

- NEW password must be different from the previously used passwords.

- Passwords must contain at least 8 characters.

- Passwords must contain at least one numerical character (0-9).

- Passwords must contain at least one lowercase letter (a-z).

- Passwords must contain at least one uppercase letter (A-Z).

- Passwords must not contain any part of your name.

› As per AUK IT security policy, passwords are required to be changed every 6 months.
› Do not give your password to anyone.
› AUK staff will NEVER request your PASSWORD via email.
› You may have read or heard of fraudulent e-mails that encourage recipients to provide their personal details such as user names and passwords.


At AUK, we will never request your password via e-mail. If you receive such an e-mail request, please delete it immediately.
Email Account

How to access your email account: You can access your AUK E-mail in different ways; directly online or through your mobile device (smartphone).
E-mail can be accessed through (https://mail.auk.edu.kw) in any web browser (On-Campus and Off-Campus) with Internet access or from the portal (https://myauk.auk.edu.kw).

About AUK Email:
-Webmail provides access to your email, calendar and contact information.
-Student e-mail account has a 700 MB limit.
-The maximum message size for attachments is 20 MB.

When you access Outlook Web Access [OWA] you will be presented with a login screen as seen below.
Here you are requested to enter your AUK username and password then press the Login button.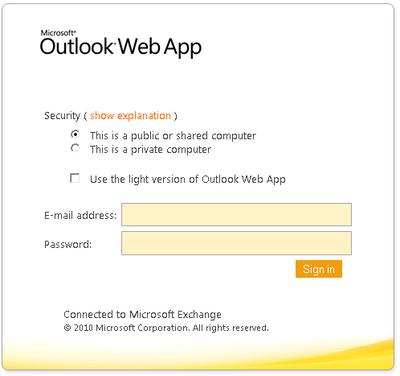 You may encounter the message below while using OWA 2010. This tells you that your browser has blocked a pop-up from OWA. In most browsers, you can allow pop-ups, after one has been blocked. This can be accessed from a menu that appears at the top of the page.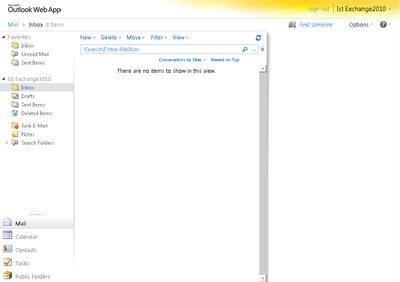 How to Recall a Message

Supposing that after sending your message you have realized that it contained a typo or you forgot to attach a file, if the message has not yet been received by the recipient, you may be able to recall it.
Note: You can't recall messages sent to email addresses outside your organization.

When you recall a message, Outlook gives you the option of replacing it with an updated version.

Follow the steps to recall a Message:
1.Click the Sent Items folder in the navigation pane. The message list displays the sent messages.
2.Double-Click the message you want to recall. The message opens on its own window.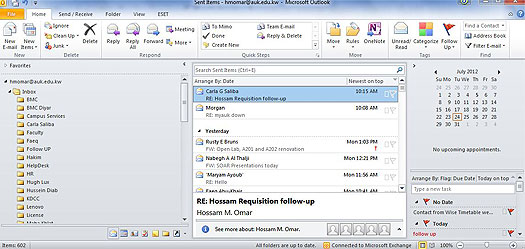 3.In the message tab's Actions group, click Other Actions.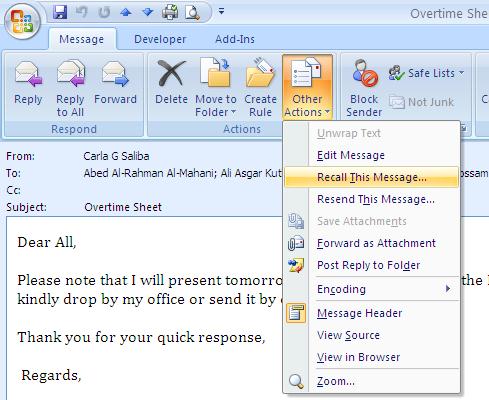 4.Click Recall This Message.

The "Recall This Message" dialog box appears with two options.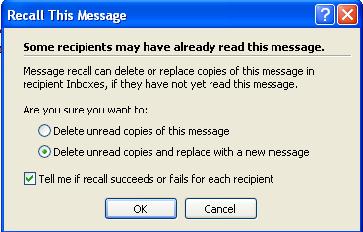 Either you delete the original message or replace it with a new message.

Add a New Contact in Outlook Web Access


1- Open your Outlook or login to Outlook Web Access at https://mail.auk.edu.kw.
2- Go to "Contacts" tab, Click New, and click Contact.
3- Fill in your new contact details.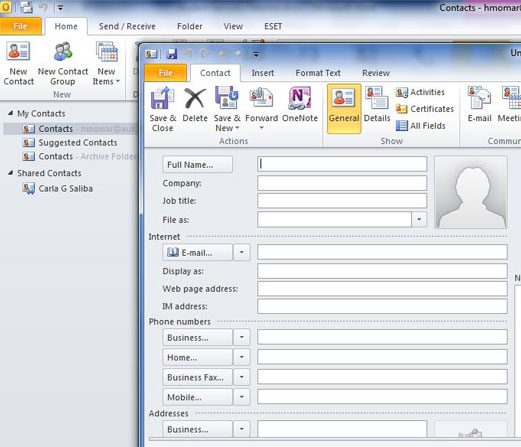 4- Click Save and Close.


Auto Forward Email Messages


If you want to forward your incoming AUK emails to your Hotmail, Gmail, Yahoo etc.... follow the steps below:

› Open OWA (https://mail.auk.edu.kw) and add your Gmail/Hotmail/yahoo address to your Outlook Address Book (How to add contact/email to address book).
› Go to "Rule" and click on "Manage Rules and Alerts" Select "New Rule" then "Apply Rule on messages I receive".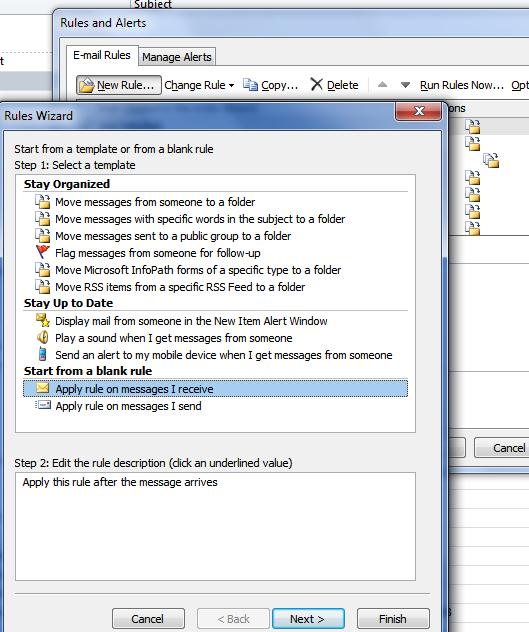 › A new window will open for new inbox rule - don't check any option just Click "Next", a new window will appear "This rule will be applied to every message you receive" click Yes .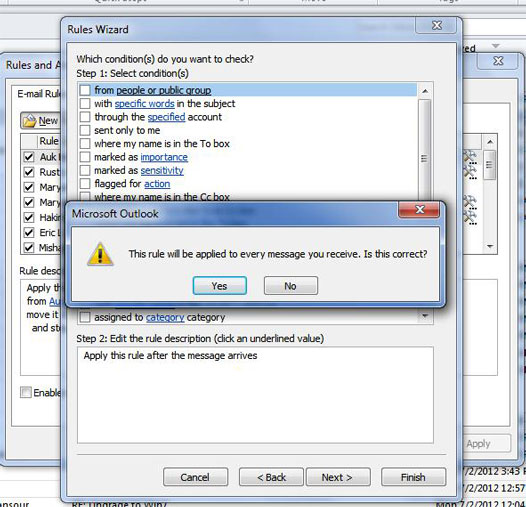 › Check the box "Forward it to people or public group" menu select and click on "people or public group".
› A window will open to choose the email address, choose the email address that you had previously added to the Outlook address book and click "Ok".
› You're done! The messages now should be forwarded to the new email address.

Manually Archive Items in Outlook 2010


1. Open Outlook 2010.
2. Click File tab.
3. Click Cleanup Tools and select Archive.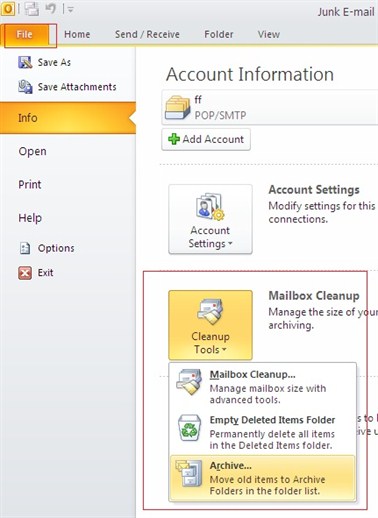 4. Click Archive this folder and all subfolders, select your folder and the below options to your preference.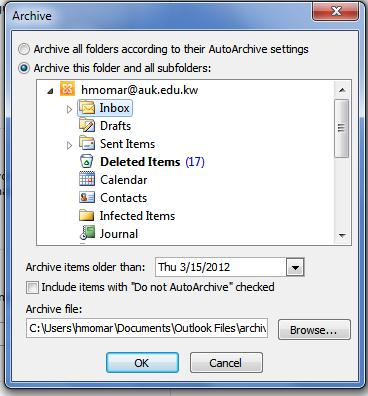 5. Click OK.


Import/Export Data


To launch the Export/Import wizard, first go to File menu, navigate to Open, and click Import (as shown in the screenshot below).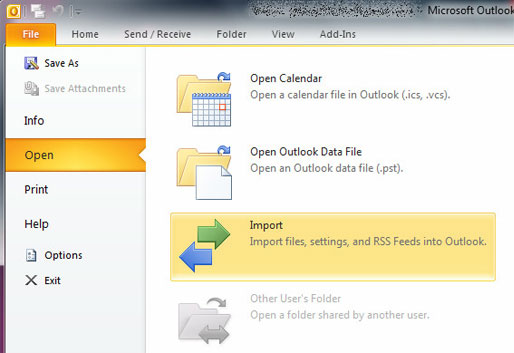 › Importing from pst file: In the Import and Export wizard, select Import from another program or file option and hit next.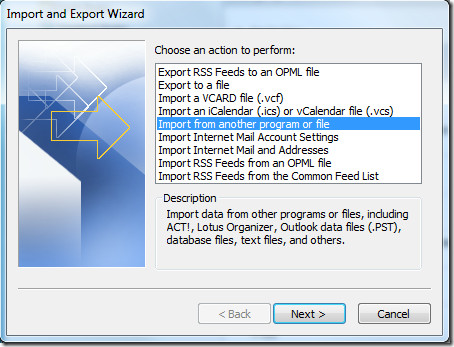 Under File Type, select Outlook Data File (.pst) and hit Next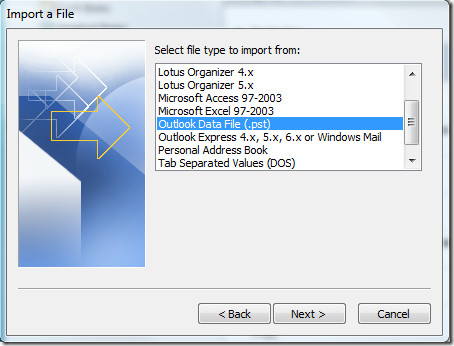 Now choose the file to import, select the options, and hit Next.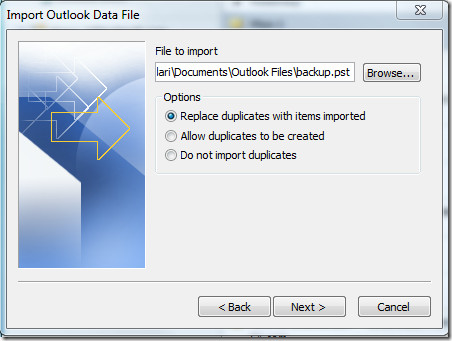 It will then ask you to enter the password for backup file twice.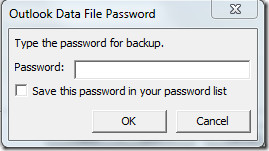 Once done, finally select the folder to import from (if you want to import complete data don't change any settings) and make sure "Include subfolders" is checked. You can either import the file to the current folder or choose the folder.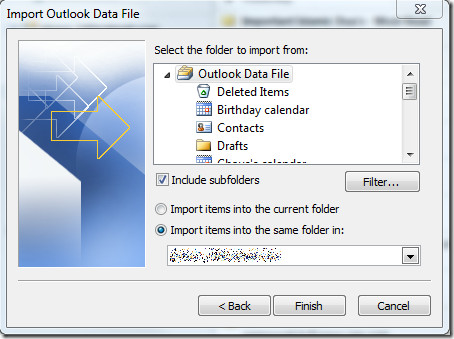 › Exporting to pst file: In the Import and Export Wizard, select Export to a file option and hit "Next".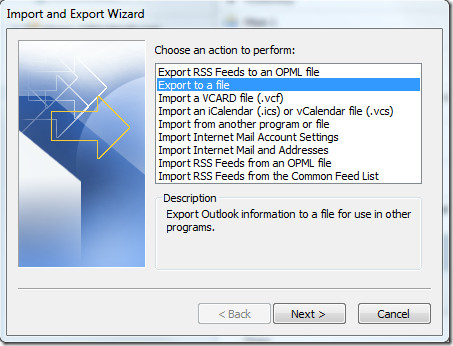 Under File Type, select Outlook Data File (.pst) and hit "Next".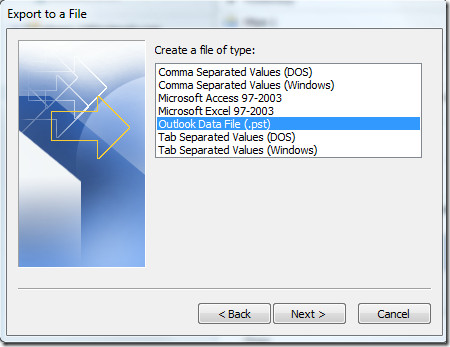 Now make sure "Include subfolder" is checked, this makes sure that all data including, Emails, Calendar, Contacts, Drafts, etc. are exported. To export only a single folder, choose that folder and click "Next".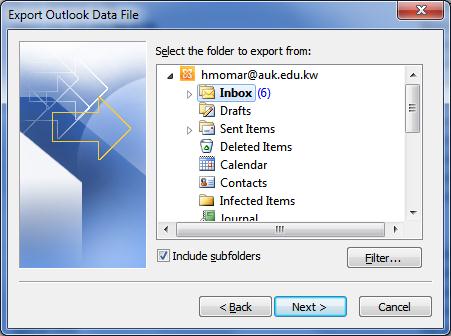 Now give the backup file a name and choose the destination where you want it to be saved and click "Finish".
Lastly, enter the Password to secure the backup file.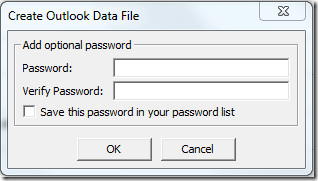 Once done, it will again ask you to enter the password. Enter the same password again and it will begin exporting your data.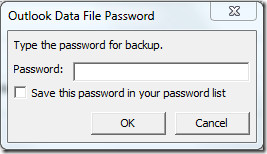 During this process your Outlook might become slow for a few seconds. When it becomes responsive again it means that the export process is completed.


Block Messages from a specific Sender


Add a name to the Blocked Senders List
Open Outlook Web Access (OWA):
1. Right Click the email you want to block.
2. Select Add Junk.
3. Select Block Sender option.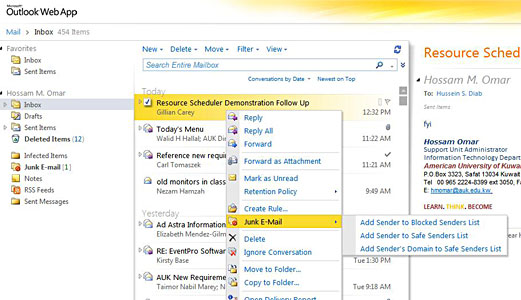 Open "Outlook": - Click Home, Click Junk, and select Junk E-Mail Options.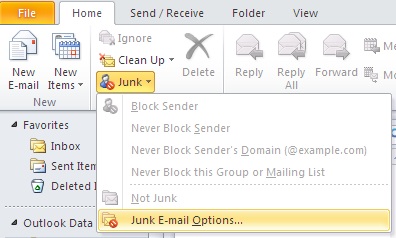 Click the Blocked Senders tab.

Add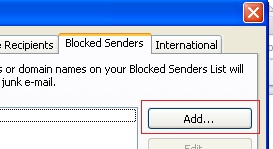 Enter the e-mail address or domain and click OK.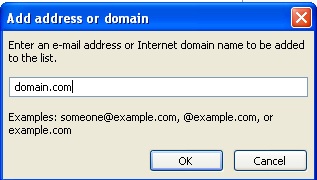 Quick Steps: Right Click the email you want to block. Then select the Junk Option from the drop-down menu and select Block Sender option.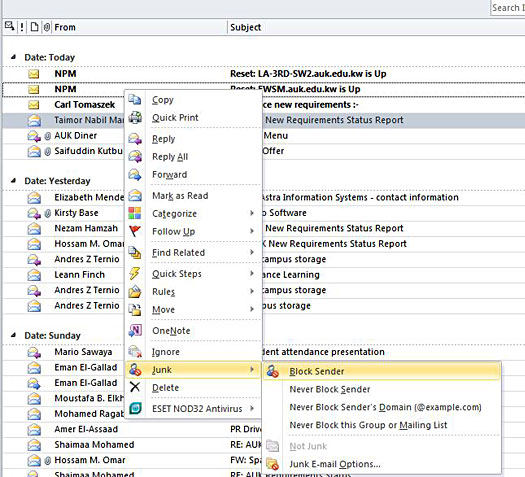 Insert Files, Tasks, Contacts, or Calendar Items into Outlook 2010 Messages


1. Open Outlook 2010.
2. Create a new message, reply or forward to a message.
3. Attach the files, tasks, contacts, or calendar Items.

To attach a file, in the Message tab, under Include, click Attach File.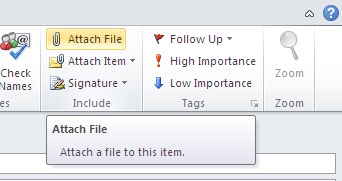 Select the file from your local computer and click OK.
To attach other items, click Attach Item.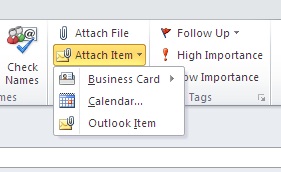 For business cards, select Business Card, Other Business.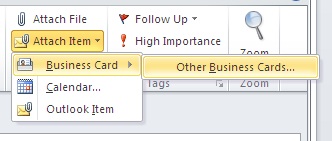 For calendars, click Calendar, select the calendar and click OK.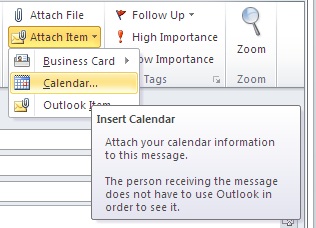 For Outlook items, click Outlook Item, navigate to the item you wish to attach and click OK.



How to turn on automatic reply "Out of Office"


1. Click the File tab, and go to Info tab in the menu.
2. Click Automatic Replies (Out of Office).
In the Automatic Replies dialog box, select the Send Automatic Replies check box.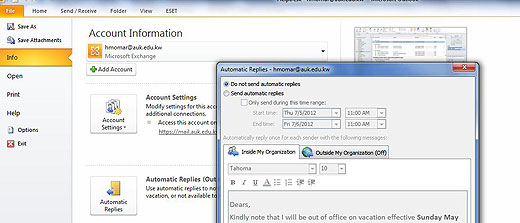 3. If you want to specify a set time and date range, select the Only send during this time range check box. Then set the Start time, and then set the End time.
4. In the Inside my organization tab, type the message that you want to send within your organization, and in the Outside my organization tab, type the message that you want to send outside your organization.
5. Click OK.


Adding an Email Signature


1. Once user is logged on to AUK webmail using the link https://mail.auk.edu.kw
Click on OPTIONS on the right hand corner and then select SEE ALL OPTIONS.




2. Click on "Settings" on the left hand panel and add the email signature. Select the option to add signature automatically on the messages to be send, once done click "SAVE" on the bottom right hand corner.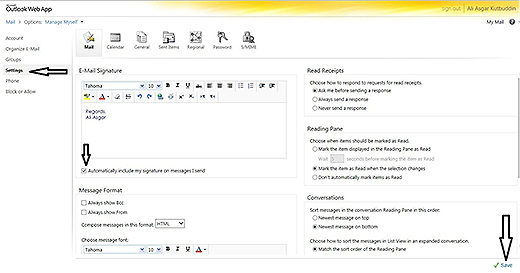 Create a Distribution List


If you frequently send e-mails to the same group of contacts - for example, to your team members at work - you can place those people in a distribution list.

1. Click "File" from the main menu
2. Click "New"
3. Go to "Distribution List"
An empty distribution list window opens.
4. Click "Select Members".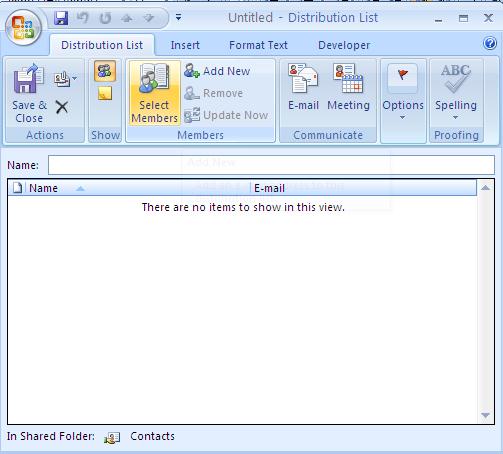 Select Members: Contacts dialogue box appears.

5. Click each contact you want to include in your distribution list.
6. Click Members. The contacts you clicked appear in the Members field.
7. Click OK.
8. The contacts you have selected appear in the distribution list window.
Type a Name for the distribution list.




9. Click Save & Close. Outlook will create the required distribution list.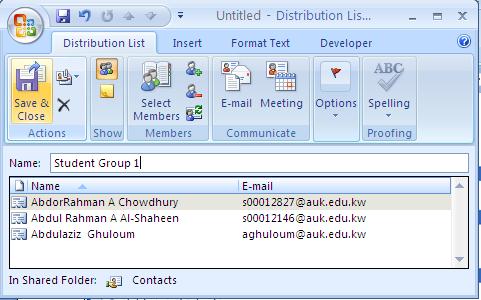 Schedule a Meeting with Contacts in Outlook 2010


1. Open OWA.
2. Click Calendar, Click New Meeting.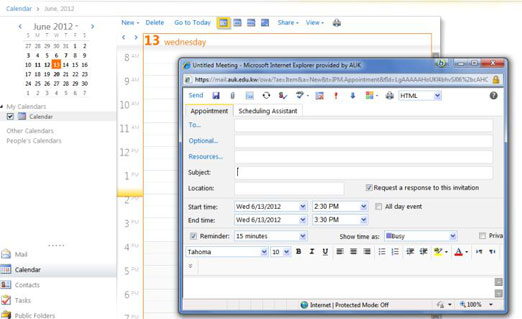 OR

1. Open Outlook 2010.
2. Click Home tab, and click Calendar.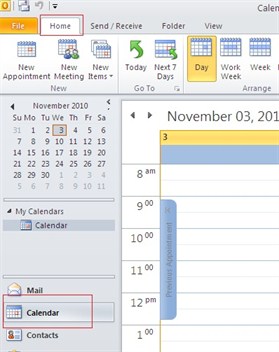 3. Click on New Meeting.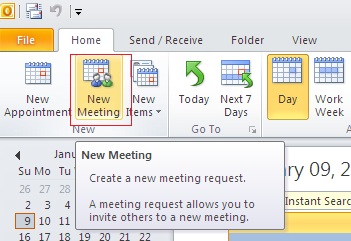 4. Input the Subject, Contact, and Location, Start time and End time as well as your message.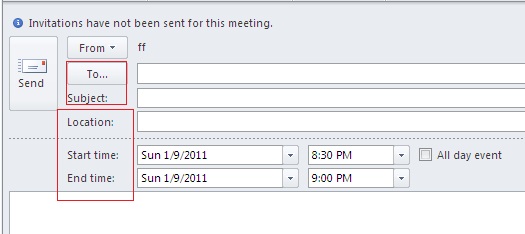 5. Click Send.


How to change/reset your AUK account password


1- On Campus:

› Option 1: If you are on campus, in a class room, or in a computer lab
› Press Ctrl + Alt + Del - Go to "change a password" - (Please refer to the password criteria section)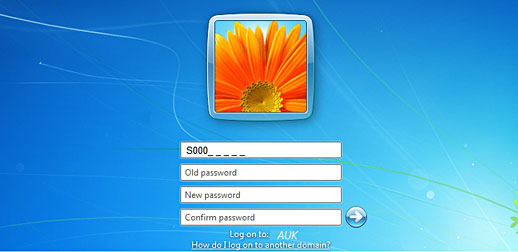 › Option 2: Open Outlook Web Access - Go to Options - Change your password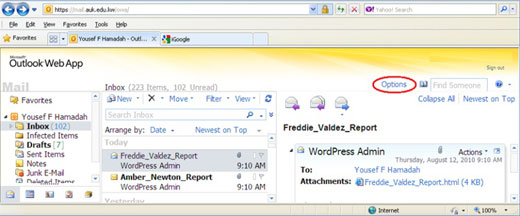 2- Off Campus

› Option 1: Open Outlook Web Access - Go to Options - Change your password.
› Option 2: Enroll/use the Self-Service Password Reset Service
(this feature will help you to reset/change your password when expired or forgotten).

To Enroll into the Self-Service Password Reset Service (One time Enrollment):
› Access the URL "http://adselfservice.auk.edu.kw/pwdreset" Click to change the password
› or Access the URL http://myauk.auk.edu.kw then (Click on Having problem logging In)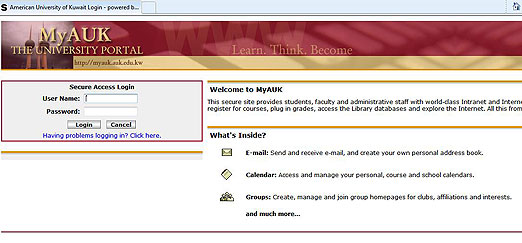 - Log in using your AUK account credentials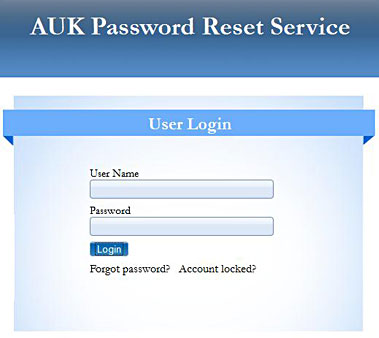 - click on Enroll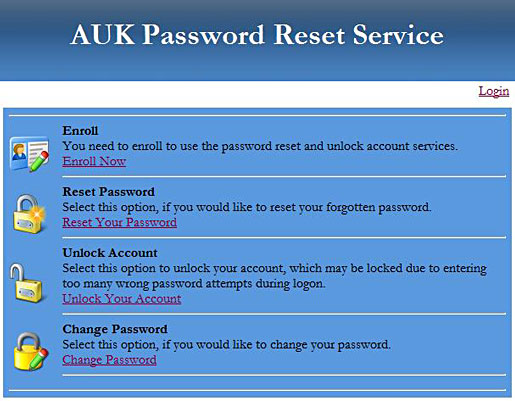 - Select and provide answers to 3 or more questions from the proposed list.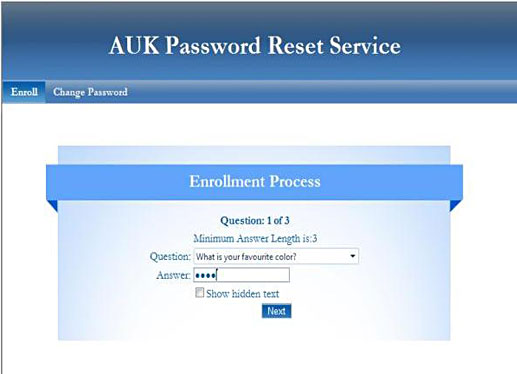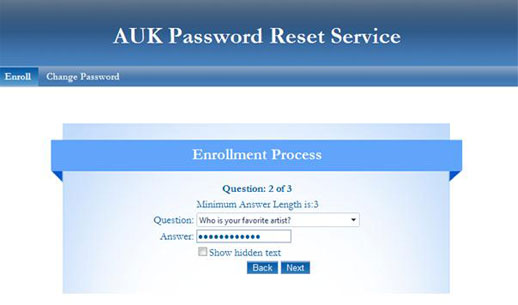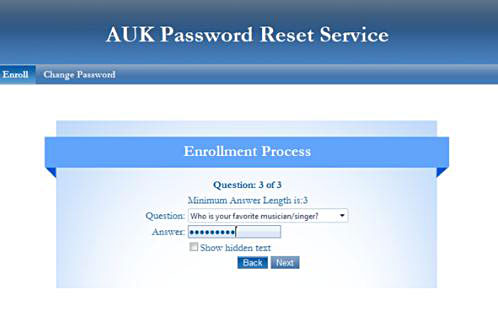 - Finalize Enrollment Process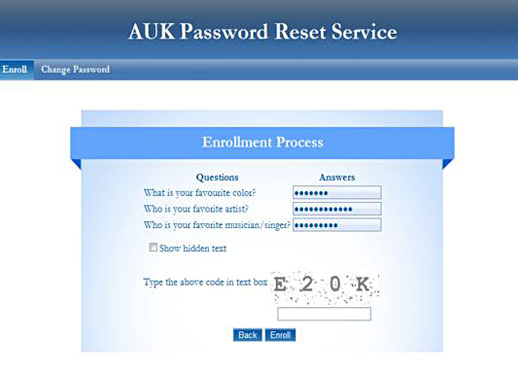 - Once enrolled successfully, you can later visit the same link to change your password or if you no longer remember it.

To Use the Self-Service Password Reset Feature:
- You can visit MYAUK portal and click "Having problems logging in? Click here."
OR
- Access the URL http://adselfservice.auk.edu.kw/pwdreset.
- click the "Forget Password" link, provide your username, and answer the security questions that you had previously selected when enrolling into the service.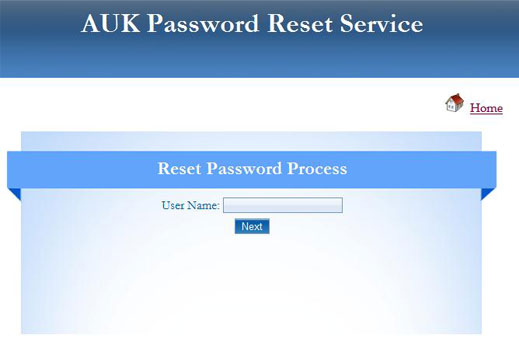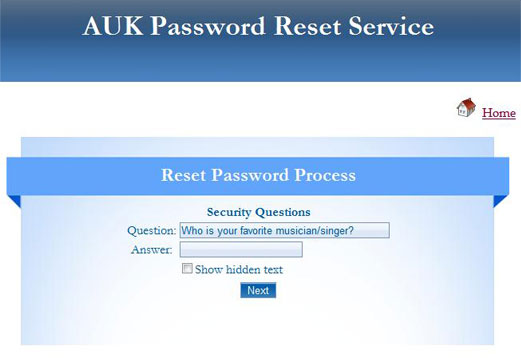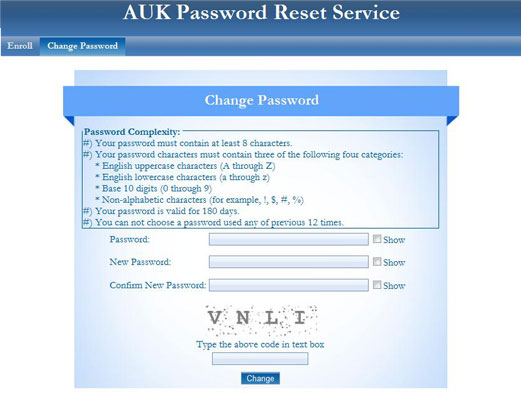 WHY DO I NEED TO CHANGE MY PASSWORD?
Your AUK Active Directory [AD] password will expire every 180 days. For the 12 days prior to this, you are prompted to change your AD password upon logging into a computer. AUK adheres to the High Level Security Policy which states that the minimum password complexity requirements should include a length of at least eight characters and be changed regularly.


Printing


AUK provides Staff/Faculty with unlimited number of papers to print.


Backup


Backup Policy:

- Servers Backup Policy: The IT department performs daily and weekly backup process for AUK servers (Database servers, Email servers, Fileserver). The data will be backed up and saved on "storage area network" and replicated to our DR data center as per disaster recovery plan. IT can recover Data/Information/Emails up to a 1 month old for all the AUK users, information older than 1 month is recycled from the backup systems.

- Desktop machines Backup policy: IT Services provides data backup and recovery services for desktop machines. Client backup software is installed on all desktop machines to ensure that all user data are backed up.

- Data Backed Up:

The following files will be backed up hourly (information will retain for 2 months):
All files saved on your "Desktop"
All files saved in your "My Documents" folder and any of its subfolders (To the exception of : "My Music", "My Videos", "My Received Files", "My Shapes" and "My Pictures")
All Internet "Favorites"
All "Outlook .pst" files
Any file saved on any other location on your hard disk will not be backed up continuously (such as files that are saved directly on the root directory C: \).
- This icon (Druva Insync) indicates that files backup software is installed and allows the user to open and manage the restore of files whenever is required.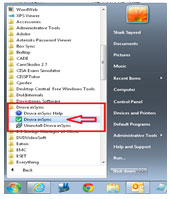 - This icon indicates that desktop based backup is actively backing up the desktop.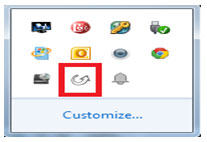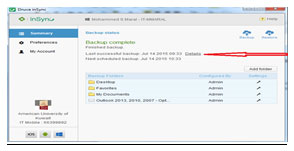 - Users can recover up to 7 days last versions of single file or folder from "My documents", "Desktop", "Favorites" directly using the Druva Insync on their desktops, complete user documents can be recovered up to 1 month without assistance of IT dept using below methods.
1. To restore your data On-Campus
- Open Druva inSync by clicking on icon in system tray or by selecting from All Programs.
- Select restore as shown below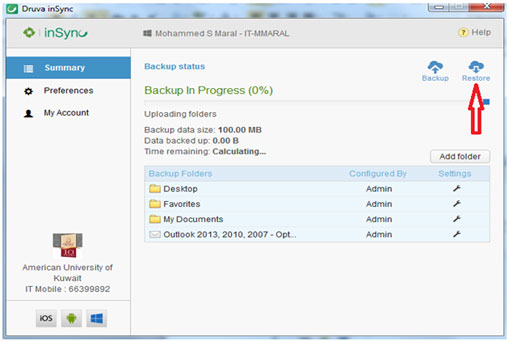 - You can us the search box to find a specific file/folder OR you can go to the file/folder location and Select the folder/file you need to restore

- Select the location to restore the file/folder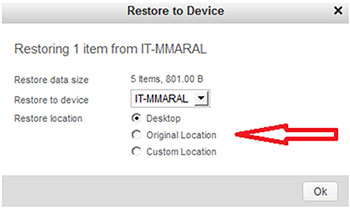 - After the restore process is complete, the restored files will be available at the selected location.
2. To restore your data Off-Campus
- Go to https://mybackup.auk.edu.kw
- Enter your AUK E-mail address and password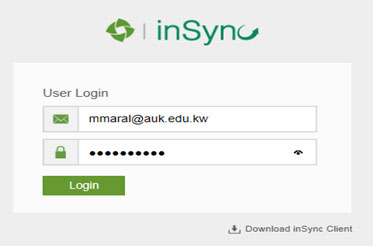 - You can us the search box to find a specific file/folder OR you can go to the file/folder location and Select the folder/file you need to restore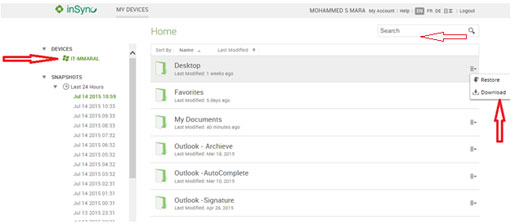 - If you select restore (It will restore to your AUK office computer) and if you select download (it will download the files on the device you are using off-campus)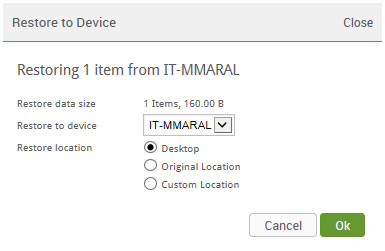 - After the restore process is complete, the restored files will be available at the selected location