Wired Network:

Each space (Class room, Office, Hall) at AUK Campus is equipped with wired data ports which are part of the AUK campus network. The wired network provides basic network/Internet access to all staff, faculty and students.
To enable the network point, the user should fill a ticket https://aukhelpdesk.auk.edu.kw/ specifying the following:
- Location – Building number – Floor – Room number.
- Network point's reference no. which is displayed on the socket of the network point.


Wireless Network:

Is a system that transmits and receives radio signals over the air. AUK University has wireless network coverage areas consisting of 74 access points spread across AUK Campus to allow students, faculty and staff the ability to surf the Web at high-speeds.

How to connect to AUK Wi-Fi: select "AUK Wi-Fi" from the available wireless networks list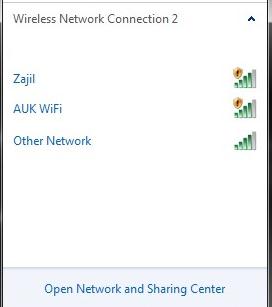 Open the internet browser, you will be redirected to the AUK Wi-Fi welcome page, wait for the page to fully load, then enter your email username and password to access unrestricted, free wireless internet. (To get guest account please contact the IT department).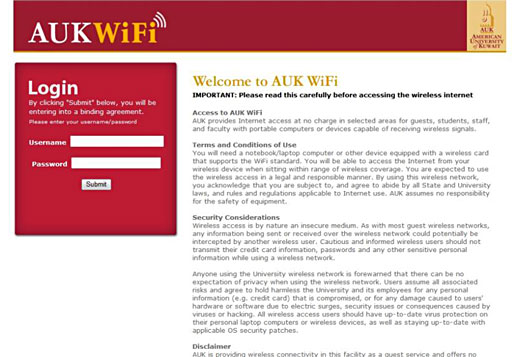 Remote Access VPN

AUK VPN (Virtual Private Network) is a network technology that creates a secure network connection over the Internet. AUK VPN allows users to gain remote access securely to their on-campus desktop computers, via the internet; AUK VPN provides security through tunneling and encryption. AUK Users must be authenticated using AD username and password.

Request an account
Submit a ticket to http://aukhelpdesk.auk.edu.kw/ to request permission to access the VPN service, and IT will provide you with a guideline document.

FAQ
What operating system versions support AUK VPN Client?
AUK VPN Client supports the following Operating Systems:
Windows 7 on x64 (64-bit).
Windows 7 on x86 (32-bit) only.
Windows Vista on both x86 (32-bit) and x64.
Windows XP on x86.
Mac OS X 10.4, 10.5 and 10.6 (64bit OS is not supported).