E-Services:


E-Services (also sometimes referred to as Self Service Banner (SSB)) provide a group of online services to the AUK community. The AUK Self-Service can be divided into two types:
Faculty Services: The Banner (Faculty) system allows employees to view and update their personal information, view pay stub, benefits and deductions history, in addition to view their leave balances and AUK phone book.
How to access Self-Service:

- Login to http://ssbbanner.auk.edu.kw:9010.
- At the first login, use your student ID S000- - - - (Capital letter "S") and the default password provided by registrar office
(BD- - - - - -) Birth Date in the format (DDMMYY)
-Then you will be prompted to change your password.
- Password should be at least 6 alphanumeric.
- You can reset your password by contacting the "Registrar Office".


AUK Portal

AUK Portal https://myauk.auk.edu.kw/ is your online gateway to AUK information & student services. It also offers off-campus access to AUK Online Library Databases (under the Library Tab).

How to access MyAUK:
- You can access it using the same password for (Windows login and email).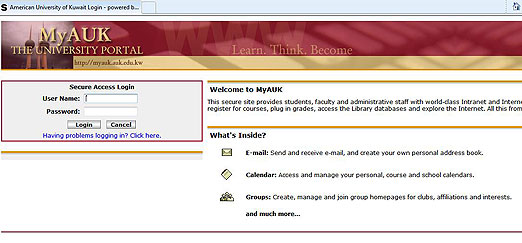 Self-Service can also be accessed after logging in to the portal by directly clicking on the Student services (for Students) and Employee services (for Faculty&Staff) icon in the portal menu bar. However, this method will require accessing additional browsing links to get to the services which you need.

Online library Service

Library Catalog
The Library is currently using the Symphony Integrated Library System which has many new features and advancements that benefit users. Accordingly, the Library web catalog has a new interactive interface and additional search capabilities. Users can access the Library Catalog to search for books, references, or multimedia items available in the Library.

Online Databases
The Library subscribes to over 35 electronic databases of different subjects and content types. These databases provide full-text access to scholarly academic content. Users can have remote access through the University Portal. http://myauk.auk.edu.kw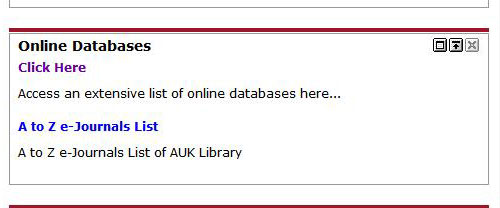 Online Citation Tool
The Library also subscribes to RefWorks which is an online research and citation management tool. It is designed to help students and researchers easily gather, manage, store and share all types of references and full-text and to generate citations and bibliographies automatically.

Helpdesk

BMC HelpDesk is a customizable web-based application solution with an easy-to-use interface. This helpdesk application will allow the IT support unit to provide a better service to end users as well as track recurring incidents and generate performance reports in addition to helping apply IT service management best practices.

Overview:
User friendly.
Provide better customer service.
Ensure consistency of services.
Browser-based, Windows authentication within AUK domain.
Centralized reference: by allowing users to view, create, update information, and track old tickets.
Self-help through the knowledge search engines: it helps clients to find solutions quickly and easily without calling the Helpdesk which saves time and increases satisfaction.
Receive IT posted messages through Whiteboard feature.
How to login to AUK BMC Self Service:

To log in to AUK BMC Self Service module, Go to:

Off-Campus:
http://aukhelpdesk.auk.edu.kw
-Use same Username and Password for (Windows login and Email)

On-Campus:
http://aukhelpdesk.auk.edu.kw
-No username and password are required if you are logging in from inside AUK campus, since BMC self-service is Windows authenticated, only type http://aukhelpdesk in your browser.

How to fill a ticket:
Open the link: http://aukhelpdesk.auk.edu.kw.
Go to the Incidents Tab - Click New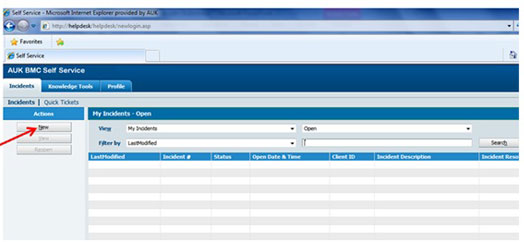 Open Incident Form will appear.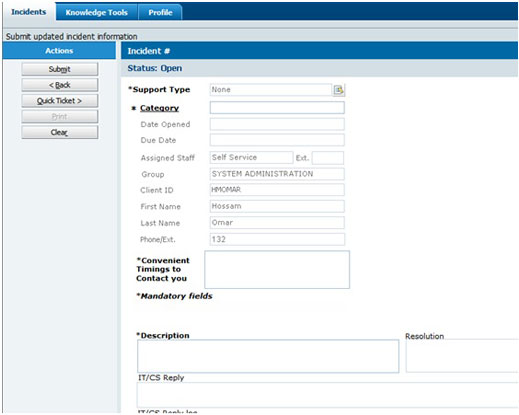 In the Support Type field select "Information Technology"

In the Category field – Choose the best category that is related to the problem you are reporting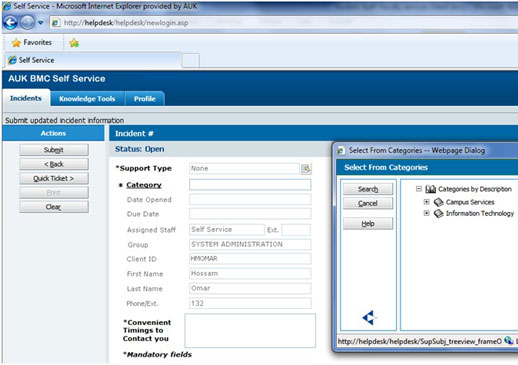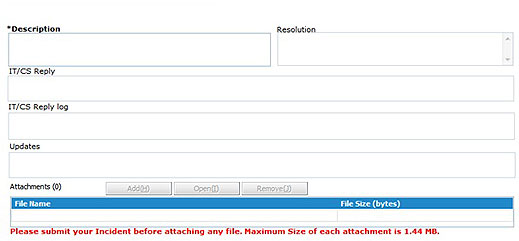 Bold fields are mandatory, and if not filled, your ticket will not be submitted. You can only add an attachment of maximum size 1.44MB.

When you finish filling the ticket, click Submit.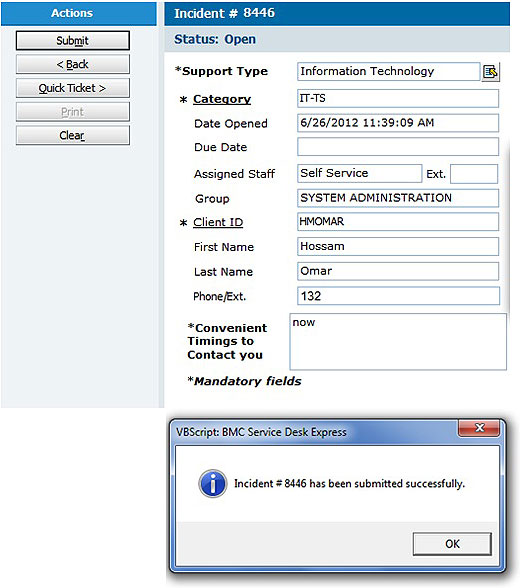 Make sure to click on Back after you "Submit" a ticket to return to the main Incidents menu. Otherwise, you might receive an alert message notifying you that the ticket is currently locked because the administrator is opening it simultaneously.

Click here to download the full AUK BMC Self-Service Manual