| Wired Network | Wireless Network |
STUDENT SERVICES - DATA NETWORK
Wired Network:


Each space (Class room, Office, Hall) at AUK Campus is equipped with wired data ports which are part of the AUK campus network. The wired network provides basic network/Internet access to all staff, faculty and students.
To enable the network point, the user should fill a ticket https://aukhelpdesk.auk.edu.kw/ specifying the following:
- Location – Building number – Floor – Room number.
- Network point's reference no. which is displayed on the socket of the network point.


Wireless Network:


Is a system that transmits and receives radio signals over the air. AUK University has wireless network coverage areas consisting of 74 access points spread across AUK Campus to allow students, faculty and staff the ability to surf the Web at high-speeds.


How to connect to AUK Wi-Fi:


select "AUK Wi-Fi" from the available wireless networks list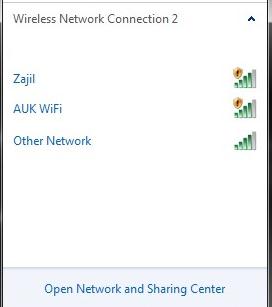 Open the internet browser, you will be redirected to the AUK Wi-Fi welcome page, wait for the page to fully load, then enter your email username and password to access unrestricted, free wireless internet. (To get guest account please contact the IT department).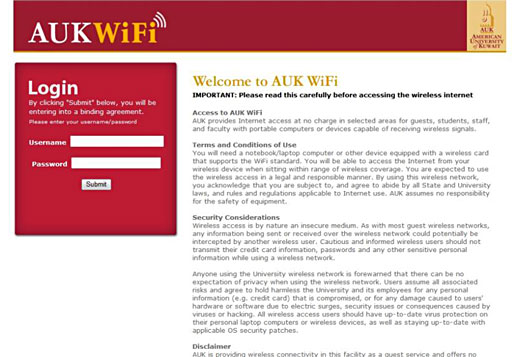 Quick Links

» Academic Calendar

» Events Calendar

»
College of Arts and Sciences
»
College of Business and Economics
» Apply


» Graduation Information

» Direct Access to Self Service

» Final Exam Schedule

» Center for Gulf Studies

» Online Payment

» Registrar

»
Advance Registration Schedule

» CCE Course Schedule

» Academic Support Services (AALSS)

» University Publications

»
AUK Videos


Resources

»
Catalog

» Course Description

» Schedule of Classes

» Dartmouth College

» Private Universities Council (PUC)

» PUC Scholarships