STUDENT SERVICES - PRINTING
Printing Services

AUK provides students each month with a free print quota equivalent to "One dinar and two hundred sixty fils (1.260 KD)" which is equivalent to 70 black and white A4 printed pages. In case of any unused or remaining quota from a certain month, it will be automatically transferred to the next month. Each printer has a cost per page associated with it and every print job reduces your balance based on the number of pages printed and the printer used and paper type. When your "Total Account Balance" has reached zero, you will no longer be able to print on AUK shared printers. You may add funds to your printing account by going to the Finance Department located on the first floor of the Administration Building.

Price:
- A4 (Black&White) = 18 Fils.
- A4 (Color) = 36 Fils.
- A3 (Black&White) = 36 Fils
- A3 (Color) = 72 Fils.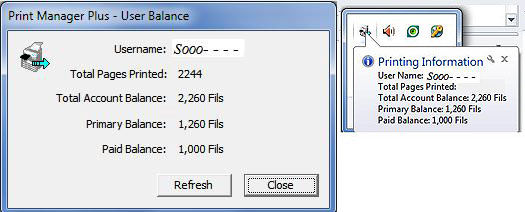 Quick Links

» Academic Calendar

» Events Calendar

»
College of Arts and Sciences
»
College of Business and Economics
» Apply


» Graduation Information

» Direct Access to Self Service

» Final Exam Schedule

» Center for Gulf Studies

» Online Payment

» Registrar

»
Advance Registration Schedule

» CCE Course Schedule

» Academic Support Services (AALSS)

» University Publications

»
AUK Videos


Resources

»
Catalog

» Course Description

» Schedule of Classes

» Dartmouth College

» Private Universities Council (PUC)

» PUC Scholarships