Program General Description
The American University of Kuwait is offering two graduate internship (Master's level) opportunities in Student Affairs/Student Services. The internship program is designed to provide graduate students and recent graduates the opportunity to gain essential experiences within professional areas of Student Affairs/Student Services, a deeper understanding of higher education administration, and to acquire specific skill sets which will help prepare them for a career in the profession. As the Student Affairs profession continues to grow in the Middle East and around the globe AUK is proud to offer this unique opportunity for young professionals to broaden their horizons on a personal, academic, and professional level. The first Student Affairs Graduate Interns at AUK participated in Summer 2009 (read the article) and the University is pleased to build off of the success of the program in each successive year.

The Graduate Student Summer Internship Program received the
2011 NASPA Best Practice Award for International Exchange Programs.

Placements & Duration
Placement possibilities exist in six different professional areas within Student Affairs/Student Services and include the following:

| | |
| --- | --- |
| | Office of the Vice-President for Administrative & Student Affairs |
| | |
| | Office of Admissions |
| | |
| | Office of the Registrar |
| | |
| | Academic Advising Center |
| | |
| | Career Services & Wellness Center |
| | |
| | Office of Student Life |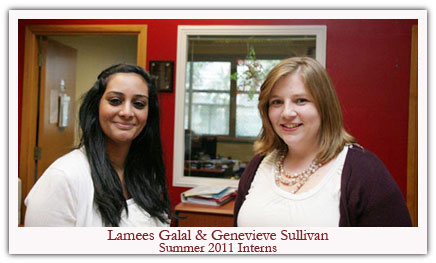 For specific information on the opportunities available in each department please refer to the Departmental Placement Overview: Duties/Responsibilities (Summer 2013) . The selected graduate interns will work primarily with the area director/assistant director in their professional area but will also have the opportunity to work with other professional staff. Interns will be expected to work 40 hours a week between a primary placement (30hrs) and a secondary placement (10hrs) from the above six departments. Students may receive academic credit for the internship if agreed upon between the supervisor and the intern's college or university.

The internship is for a 6-8 week period starting early June, working through late July or early August depending on agreeable terms and scheduling needs (start and end dates may be flexible).

Interns have the chance to experience a multinational educational environment where they interact with people from different backgrounds to enhance their academic experience and encourage them to become international citizens.

Previous Interns Experiences

Previous interns are listed below along with their graduate institution, and position post-graduation. For more information on previous interns feedback click here.


Summer 2012
| | |
| --- | --- |
| Zaynab Baalbaki | Marquette University |
| | |
| Paige Morton | University of Michigan |
Summer 2011
Lamees Galal
Ball State University
First position post-graduation:
Resident Director, Boston College
Genevieve Sullivan
Denver University
First position post-graduation:
Associated Students Community Service Coordinator, Sonoma State
University
Summer 2010
Allison Fox
Michigan State University
First position post-graduation:
Senior Student Leadership and Development Coordinator, Zayed
University - UAE
Katie Mitchell
The University of Northern Colorado
Position post-graduation:
Assistant Director, Office of Admissions, Colorado State University
Summer 2009
Kevin D'Arco
Texas A&M University
First position post-graduation:
Student Development Coordinator, Carnegie Mellon
University - Qatar
Ashley Edwards
Illinois State University
First position post-graduation:
Academic Advisor, Texas Christian University
Anticipated Dates for Summer
Summer 2012
Arrival in Kuwait
June 1st 2012
Departure
July 28th 2012
Summer 2013
Arrival in Kuwait
May 31st 2013
Departure
July 27th 2013
Compensation

Compensation for each selected intern includes the following based upon an 8-week experience (prorated for durations less than 8 weeks).
Living stipend
Travel allowance
Fully-furnished apartment (shared accommodation)
Interns are responsible for securing their own passport, making all travel arrangements, and securing all health and travel insurance, AUK will assist with securing a visa as required. For specific amounts please see the most current General Program Overview (Summer 2013) .
Selection Process

Review of applications & the overall selection process will continue according to the following timeline:
| | |
| --- | --- |
| Early October | Announcements, Program Details, Selection process posted, and applications made available |
| Early November | Deadline to submit completed application materials |
| Mid November | Applications reviewed by selection committee |
| Late November/ Early December | Only selected candidates contacted for interview by phone or video conferencing |
| Mid December | Finalists notified (once confirmed, all applicants to be informed) |
For additional information on the selection process including specific dates and application processes please visit the Eligibility & Selection page or click here
For additional information not indicated on these pages or links please contact Tadd Kruse, Assistant to the President for Institutional Planning & Effectiveness tkruse@auk.edu.kw.